USER'S GUIDE
OPENING HOURS
・9:00 - 18:00
*Fridays, and Saturdays in July and August are 9:00 - 20:00

CLOSED
・Mondays (open for public holidays and compensatory holidays)
・New Year's Holiday (from Dec 29 to Jan 4 of the following year)

ENTRY
・Kochi Mirai Science Museum is located on the 5th floor of Otepia. Please use the elevator to access it.
*Please be aware that the escalator inside Otepia only goes from the 1st-3rd floor.

ADMISSION FEE
free  *There is a fee for planetarium viewing.

PLANETARIUM VIEWING FEE
Classification
General
Over 18 years
High school student
15-17 years old
Elementary/middle school student
6-14 years
Preschool children
Price
¥500
\300
\100
Free*
*For safety, preschool children must be accompanied by a parent. When reserving a seat forviewing, you must obtain a preschool child's "free ticket" from the science museum reception.
PLANETARIUM TICKET SALE TIMES
9:00 onwards (tickets are sold for the whole day).
*Only valid for the sale date.

PLANETARIUM VIEWING FEE REDUCTIONS & EXEMPTIONS
・Guests who are 65 years or older are half price (please show proof of age).
・Those with a physical disability certificates, rehabilitation certificates, or mentallyhandicapped health and welfare certificates can enter for half price along with one caregiver (one person).

FLOOR MAP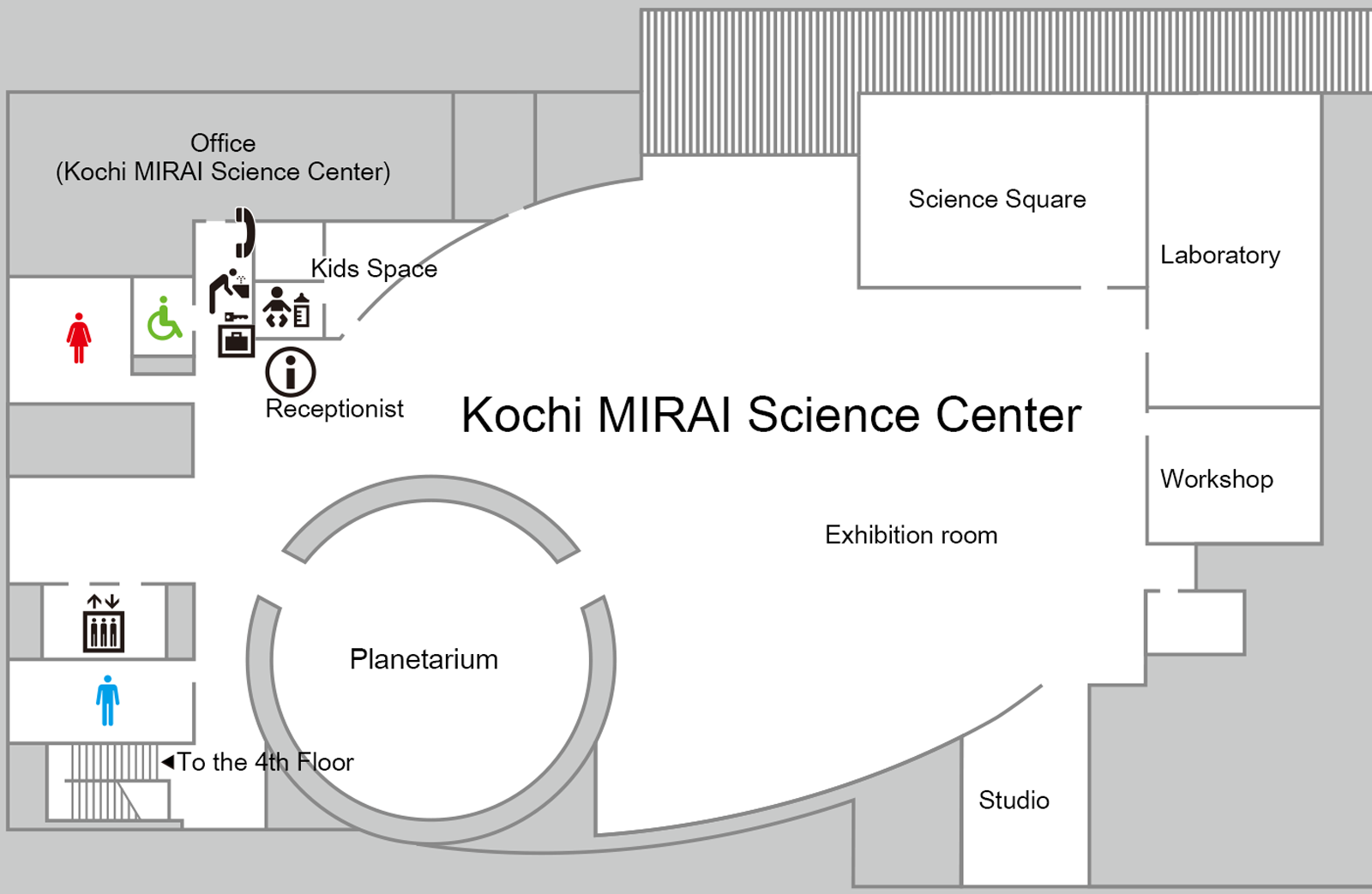 ・Reception (ticket / shop)
 We sell various guides, planetarium tickets, and science goods.
・Exhibition Room
 There are various interactive displays and specimens divided among the three zones; "TheNature and Creatures of Kochi," "Explore Space, Earth, and Science," and "Science and Crafts of Kochi."
・Planetarium
 In a dome with a diameter of 12 meters,an optical projector displaysa beautiful starry sky and powerful images are projected with a digital image system.
・Science Square
 Science shows, science experiments, and others activities are held here.
・Laboratory
 Science experiments and other activities take place here.
・Workshop
 Scientific work and other activities are conducted in this room.
・Children's Space
 This is a space for small children. They can play freely with building blocks and other toys.There is also a baby room equipped with a diaper changing table, nursing room, and water heater for milk, as well as a resting area for kids, where children can eat and drink.
・Workshop
 This room produces materials for scientific work. *Not open to the public.

CONTACT US
2-1-1 Otesuji, Kochi City, 780-0842
TEL:088-823-7767(main) FAX:088-824-8224(main)
Email: kc-201005@city.kochi.lg.jp